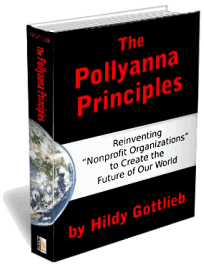 We can create the future we want for our communities!
From the first page of this groundbreaking work, prepare to be inspired to get to work creating an extraordinary future for your community – even (and especially) in tough economic times.
Drawing on her extensive experience in the field, the "nonprofit" sector's respected contrarian – veteran consultant and author Hildy Gottlieb – debunks everything you thought was true about creating "effective organizations."
Can governance aim organizations at creating community change?
Can an individual organization's planning really create a different future for a whole community?
Can the way we raise money make a difference in our communities (Not the money we raise, but the actual fundraising efforts themselves)?
Hildy's answer: Yes!
We can reinvent the Community Benefit Sector's most commonly used systems, to simultaneously build strong organizations and strong, healthy, vibrant communities.
If you are a funder who believes that your grants could create more impact.
If you are a consultant who wants to help your clients make more of a difference…
If you are a board member who wants your leadership and accountability to improve your community's quality of life..
If you work at a community organization and are tired of balancing organizational survival against the desire to make a difference…
The Pollyanna Principles will show you how to create the future for your organization and your community right now!
We are creating the future right now, with everything we do and say.
What future will you create?
The Pollyanna Principles
Paperback Version
Only $29.95

Get your copy now!

Kindle Edition
Only $9.99
---